The Real Land Grab to Replace LHH's
skilled Nursing Beds With Supportive Housing
• Land Grab Main
• SEIU Deceived Voters … and Its Members
• Who Financed the "No on Prop. D" Campaign
• The $562,800 "Senior Housing Plan" for LHH's Campus
• People Affected if the West Residence Isn't Built
• Minutes of the "Assisted Lviing Project Workgroup" and the "Transition Steering Committee"
• Vote "No" on Future Bond Measures

Who Financed the "No on D" Campaign — And Who Was Behind It?
When Prop. D — a measure designed to preserve the safety of LHH's skilled nursing care for elderly and disabled San Franciscans — was submitted to the Elections Department for the June 2006 election with enough signatures to qualify for the ballot, Mayor Gavin "Care Not Cash" Newsom stepped forward as the chief opponent against Prop. D. He has other plans for the Laguna Honda campus: Putting "supportive housing," rather than skilled nursing beds, onto the property.
Newsom turned to his ally, lawyer Jim Sutton, who was hired as the "No on D" treasurer, since Newsom had previously used Sutton as the treasurer of his campaign to become mayor.
[As an aside, Sutton was also Newsom's Transition Team Committee treasurer to separately raise funds for Newsom's inaugural events, and there was a brief Ethics Commission scandal involving whether funds from the one committee were used to pay debts of the other committee. As well, according to an article in the SF Weekly ("Stealth Dollars," Oct. 25–31, 2006) Sutton was fined $240,000 by the Ethics Commission for failing to report $800,000 in campaign spending by utility giant PA&E in 2002. Sutton was the former boss of candidate for District 6 supervisor, Rob Black when they were both employed by the law firm of Nielsen Merksamer, which handled PG&E's efforts to stop public power in San Francisco. Black has been endorsed by Mayor Newsom to unseat incumbent Supervisor Chris Daly. Black was formerly an aide to Supervisor Alioto-Pier. The Ethics Commission is investigating illegal spending of so-called Independent Expenditure (IE) committees involved the District 6 November 2006 election. Sutton is doing work for the Golden Gate Restaurant Association, a close ally of Mayor Newsom's. Sutton is the treasurer for Alioto-Pier', and District Attorney Kamala Harris also used Sutton in her race to become D.A. And another lawyer with ties to Sutton, Doug Chan (whose law firm Chan, Doi, and Leal has received a total of $460,913 in fees from PG&E) is running for Supervisor in District 4, with Newsom's and downtown big businesses endorsements.]
Once Newsom brought Sutton on board against Prop. D, Sutton turned around and hired Barnes, Mosher, Whitehurst, Lauter and Partners to lead the public relations campaign against Prop. D for the Mayor. Reports are that BMWLP was paid $173,000 for its work to defeat Prop. D. The Bay Guardian notes ("The Dirt in D6," October 25–31, 2006) that BMWLP "has also been employed by Sutton through BOMA and the GGRA for the IE's in the District 6 election." BOMA is the Building Owners and Managers Association; GGRA is the Golden Gate Restaurant Association, and interestingly, they both contributed to the No on D campaign, as shown below.
Notably, various labor unions (including SEIU Local 660 in Southern California) contributed $90,000 towards defeating Prop. D, apparently opposing a safe environment for their members to work in at LHH. Bay Area hospitals contributed at least $30,000. Contractors working on the LHH Replacement Project contributed at least $17,000. And individuals like Don Fisher, founder of The Gap, and Diane Wilsey, President of the Fine Arts Museum Board of Trustees (on which former SEIU 790 Executive Director Josie Mooney also serves as a FAM Trustee) each donated $10,000.
And wouldn't you know it? BMWLP lists on its web site that SEIU Local 790 is one of its current clients. That's right, Local 790 has retained the services of BMWLP to spruce up the union's image whenever 790 needs to convince the public that it is not really as corrupt as it is widely perceived to be.
Between downtown business interests, Sutton and BMWLP, and the SEIU unions, somebody was clearly trying to return political favors to the Mayor, who is very interested in the property of LHH, but not for elderly San Franciscans. Of the $234,452 reported to the Ethics Commission as having been raised by Sutton for the No on D Committee, at least 45 prominent people, some with ties to the Mayor by holding contracts with the City, donated at least $1,000 each. According to financial campaign reports filed with the Ethics Commission, the 45 include:
Amount Organization/Individual

$ 25,000 SEIU UHW - Political Issues Committee
15,000 SEIU UHW - Political Issues Committee
1,083 SEIU UHW - Political Issues Committee
20,000 SEIU Local 790 Non-candidate COPE
5,000 SEIU Local 790 Non-candidate COPE
15,000 Turner Construction
10,000 California Pacific Medical Center
10,000 Fisher, Donald
10,000 Kaiser Permanente Foundation Health Plan
10,000 Kenwood Bay Aquarium, LLC
10,000 Wilsey, Diane B.
5,000 Forest City Residential West, Inc.
5,000 Golden Gate Restaurant Association
(5,000) Golden Gate Restaurant Association
5,000 International Brotherhood of Electrical Workers Local Union 6
5,000 Northern California Carpenters Regional
5,000 San Francisco Firefighters PAC
5,000 St. Francis Memorial Hospital
5,000 St. Mary's
3,000 SEIU Local 660 Issues and Initiatives Fund
2,500 BOMA (Business Owners and Managers Association) Ballot Issues PAC
2,500 Hellman, F. Warren
2,500 Norcal Waste Systems PAC
2,500 Shorenstein Properties
2,500 U.A. Local 38 COPE Fund
2,409 Operating Engineers Local 3
2,000 Chong Partners Architecture
2,000 Professional Hospital Supply, Inc.
2,000 SF Chamber of Commerce, 21st Century Committee
1,500 Kay & Merkle, LLP
1,500 Kay, Steven
1,000 CA Hospitals Committee on Issues
1,000 California Faculty Association PAC
1,000 CIF of the San Francisco Foundation
1,000 Degenkolb Engineers
1,000 HMS Associates
1,000 Kay & Merkle, LLP
1,000 Klein, Thomas B.
1,000 Mazzetti & Associates, Inc.
1,000 Okin, Robert
1,000 Sutro, Elizabeth H.
1,000 Theatrical Stage Employees Union Local 16
1,000 Umekobo, John [Current Health Commissioner]
1,000 Upton, Sloan
$ 1,000 Werdegar, David [Former Director of Public Health]
$201,992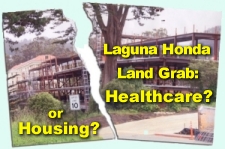 Top
Page Posted 11/05/06
_______

Copyright (c) 2006 by Committee to Save LHH. All rights reserved. This work may not be reposted anywhere on the Web, or reprinted in any print media, without express written permission. E-mail the Committee to Save LHH.