The Real Land Grab to Replace LHH's
skilled Nursing Beds With Supportive Housing
• Land Grab Main
• SEIU Deceived Voters … and Its Members
• Who Financed the "No on Prop. D" Campaign
• The $562,800 "Senior Housing Plan" for LHH's Campus
• People Affected if the West Residence Isn't Built
• Minutes of the "Assisted Lviing Project Workgroup" and the "Transition Steering Committee"
• Vote "No" on Future Bond Measures
Comittee Minutes
Notably, the Laguna Honda Hospital Replacement Project has adopted a "vision" statement that states:
"The City and County of San Francisco will dessign and construct a new campus on the Laguna Honda Hospital site which will provide housing and a complete continuum of long-term healthcare services …"
This vision statement ignores the fact that voters passed Prop. A in 1999 to build a continuing healthcare facililty, not housing. Yet two committees have been formed that are actively focusing on, and implementing, housing on the LHH campus.
Minutes of the Assisted Living Project Workgroup
Voters approved Prop. A in 1999 to authorize bond financing to rebuild Laguna Honda Hospital's skilled nursing beds and a small number of "assisted living" beds. The Assisted Living Project workgroup is supposed to guide the development of the assisted living beds for the LHH campus.
February 16, 2006
March 13, 2006
April 10, 2006
May 8, 2006
June 19, 2006 Just 13 days following the June 2006 elelction, these minutes show that the Department of Public Health decided that
unlicensed "supportive housing" rather than licensed assisted living beds will be built at LHH.
September 12, 2006

Minutes of the Transition Steering Committee
The Transition Steering Committee (TSC) was formed in order to guide a smooth transition moving from the existing LHH facilities into the completed Replacement Project.
August 2, 2005
September 6, 2005
October 4, 2005
November 1, 2005
December 6, 2005
March 21, 2006
May 9, 2006
June 20, 2006
September 5, 2006
Octoberr 3, 2006
November 7, 2006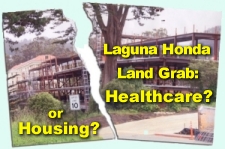 Top
Page Posted 11/05/06
_______

Copyright (c) 2006 by Committee to Save LHH. All rights reserved. This work may not be reposted anywhere on the Web, or reprinted in any print media, without express written permission. E-mail the Committee to Save LHH.