LHH Special Use District Ballot measure


A group of concerned patient advocates, family members of Laguna Honda residents, taxpayer advocates, neighborhood and community organizations from across The City, and Laguna Honda Hospital staff members, has formed San Franciscans for Laguna Honda for the purpose of sponsoring a signature petition drive to place a measure on the June 2006 ballot. The proposed ballot measure seeks to create a Laguna Honda Hospital Special Use District.
Visit the San Franciscans for Laguna Honda web site to learn more about this grassroots effort.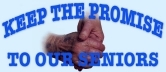 _______

Copyright (c) 2005 by Committee to Save LHH. All rights reserved. This work may not be reposted anywhere on the Web, or reprinted in any print media, without express written permission. E-mail the Committee to Save LHH.