Editorial Westside Observer September 2012 at www.WestsideObserver.com
Serving Two Masters
It's only fair that the Board of Supervisors admit the obvious: open government laws do not apply to the Board of Supervisors. It is exempt from Sunshine laws because it appoints the board that enforces it.
<![if !vml]>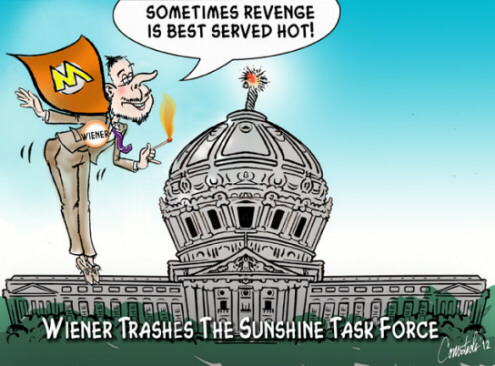 <![endif]>As the new, unwitting appointees to the Sunshine Ordinance Task Force (SOTF) are sworn in, they are legally bound to enforce the laws they oversee. Little do they know that they will also serve a conflicting set of unwritten laws imposed by the Board of Supervisors.
The environment of impunity at City Hall, the result of the Ethics Commission's refusal to pursue Sunshine violations, pales in comparison to the hostile take-over last month of the SOTF by the Supervisors. The removal of Bruce Wolfe, Jay Costa and Hanley Chan, three seasoned veterans of the struggle to bring full disclosure to City Hall, and the refusal to reappoint Allyson Washburn, the League of Women Voters' nominee, and Suzanne Manneh, the New American Media's nominee — both highly qualified and knowledgeable members who are willing to serve — has effectively killed the voter-mandated Task Force.
Who knew there were unwritten laws for Sunshine? Doesn't the public have a right to know what they are? We've long known that City Hall's "support" of Sunshine is mere lip service, but so far there has not been a coordinated effort to subvert the law — at least not to our knowledge.
The Task Force is already months behind in its hearings and out of compliance with its mandate through no fault of its own. The Board of Supervisors created this mess and must fix it immediately.
_______
Copyright (c) 2012 Westside Observer. All rights reserved. Re-posted with permission.