Article
Westside Observer
December 2009, at www.westsideobserver.com

Déjà Vu Haunts Laguna Honda
by Patrick Monette-Shaw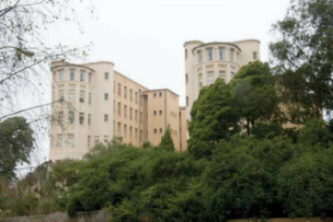 When it comes to Laguna Honda Hospital, community members often experience the illusion they're reliving the past, even if it is the first time they've encountered Laguna Honda accountability issues. But the term déjà vu has evolved to include repetitive events and actions, and is also used to describe boring familiarity and tedium, along with repetitiveness. Each of these meanings haunt Laguna Honda's house, in part because officials continue to evade members of the public they ostensibly serve. Let's stroll down LHH's déjà vu lane.
Diversion of Funds: The tobacco settlement revenue (TSR) account intended to rebuild LHH had previously been raided of at least $41.3 million: In 2003, former Mayor Willie Brown diverted $25 million from the TSR account in order to balance his final city budget. In July 2008, Mayor Newsom diverted $18.3 million in TSR's to help balance the Department of Public Health's budget and to fund new community-based housing subsidies.
Déjà vu: A new report from the LHH Replacement Project presented to the Citizen's General Obligation Bond Oversight Committee on October 22, 2009 indicates Newsom has diverted another $9 million in TSR's to "address unfunded operating costs" in the Department of Public Health's current fiscal year '09–'10 budget. This brings the total of diverted TSR's initially earmarked for the LHH rebuild to $50.3 million. City Controller Ben Rosenfield and Nadia Sesay, the Mayor's Director of Public Finance, indicated on October 22 that unlike other sources of LHH rebuild funds, TSR's can be diverted to the City's general fund.
Changes in Project Scope: Leading up to now, San Franciscans have seen the scope of the LHH rebuild project reduced in multiple ways: First, there was Newsom's decision to reduce the replacement hospital from a 1,200-bed skilled nursing facility to only 780 beds, cutting 420 beds from the project scope. Then, the Assisted Living component of the replacement project, which had been planned to add a continuum of housing for an additional 200 people, was scuttled from the project. Following that, LHH's on-site Adult Day Health Care (ADHC) center was closed, and plans for LHH's award-winning hospice was cut by 50 percent, from 30 beds to only 15.
Déjà vu: Fast forward to 2009. Included in the $9 million of TSR funding reduction are plans to eliminate space for the ADHC in the replacement facility, meaning that it is effectively gone. Still unknown is whether LHH renewed its ADHC's license by November 15, or whether it let the license expire, knowing the State has a moratorium against issuing new ADHC licenses. As well, previous planning to keep a 15-bed hospice appears to remain on the "project scope" potential chopping block. In addition, previous "key plans" describing the use of each floor in the replacement facility had indicated the "acute" hospital and admitting unit beds would be located in the residential towers; now they are being moved to the Rehabilitation unit in what is known as the Pavilion Building, decreasing the number (scope) of skilled-nursing rehabilitation beds from 45 to 28. There will be fewer beds available at LHH for people needing skilled-nursing rehabilitation to recover from strokes, brain injuries, motor vehicle- and bicycle-accidents, and cerebrovascular accidents brought on by old age.
Laguna Honda's annual report for 2009 posted on its web site reports on page 10 that up to 45% of its capital construction costs could be paid for using federal dollars. So if the project may be reimbursed $158 million by the feds for 45% of the approximate $350 million construction portion of the Laguna Honda rebuild, why is $9 million now being cut from the project (including the ADHC space), when it could be reimbursed by the feds? (Note: The total cost of the project, now being reduced from $593 million to $584 million, includes approximately $234 million in so-called "soft costs," including architectural design and consultant services.) Offsetting the $9 million in scope reductions eliminating space for the ADHC, is a déjà vu new increase of $4.6 million in additional architectural and engineering consultant services.
Failures to Meet With Neighbors and the Community: Neighbors so concerned about unilateral changes made by the Department of Public Health to Laguna Honda's admission policies and LHH's "mission" held a Town Hall meeting at St. Brendan's Parish Hall on December 4, 2004. Neighborhood concerns led to the June 2006 Proposition D ballot measure to protect Laguna Honda residents. Three years after the defeat of Prop. D, neighbors remained so concerned about the displacement of senior citizens at LHH needing skilled nursing care, that they convened another Town Hall meeting held May 10, 2007 at the Forest Hills Christian Church. Neighbors have had lots of questions about the LHH replacement project over the years, but all along have received few answers from City officials.
Déjà vu: Late in the fall of 2009, a small community delegation met privately with LHH's new executive administrator, Mivic Hirose, but again they received few answers to a laundry list of community concerns. She was subsequently invited to speak at the West of Twin Peak Central Council's September 28 meeting, but reportedly went far over her allotted time discussing her career progression, issues related to the move into the new facility, and selected "success stories" of Laguna Honda residents. Legitimate neighborhood questions remain unanswered, since reportedly Hirose avoided addressing substantive issues. Taxpayers are increasingly asking for answers and information, not new-building tours, since there have been no community meetings held despite the Wide Angle Communications recommendation in November 2008 that Laguna Honda should hold more meetings with neighborhoods. A year has elapsed, and déjà vu, no community meetings have been held. And no neighborhood newsletters have been distributed, which Wide Angle had also recommended, despite LHH's three-member Communications Department costing nearly $400,000 in salaries and fringe benefits. The community's mantra, "Answers, not tours!" is being ignored.
Continuing Government Secrecy: A November 3, 2004 meeting scheduled by the Laguna Honda Replacement Project was suddenly cancelled, potentially to stifle public debate about the future of LHH. Similarly, meetings of the Health Commission to discuss LHH's future have also been cancelled on short notice, including the then long-awaited November 16, 2004 full Health Commission meeting at LHH.
Déjà vu: A Health Commission sub-committee known as the LHH-Joint Conference Committee inexplicably changed its decades-long monthly meetings to quarterly meetings in early 2009, shortly before the untimely death of LHH's former executive administrator John Kanaley. It is widely believed that the LHH-JCC, under the stewardship of Health Commission president Jim Illig, wants to stifle public comment during its meetings. Illig has made a number of changes to how the JCC meetings are conducted, and has refused to take public comment during some of the meetings. So it was another instance of déjà vu when the long-scheduled quarterly meeting of the LHH-JCC on October 21, 2009 (that DPH wrongly then claimed was scheduled for October 28) was suddenly cancelled and rescheduled to December 9. Why Illig canceled a JCC meeting just six months before LHH's new facility is scheduled to open is shocking. Will the now December 9 JCC meeting also be cancelled, in another bald attempt to limit public accountability and citizen involvement?
When the City decided to change the mission of the Mental Health Rehabilitation Facility (MHRF) on the grounds of San Francisco General Hospital, a Blue Ribbon Committee was formed in response. When CPMC announced that it wanted to change the operation of St. Luke's Hospital in the Mission District, another Blue Ribbon Committee on the future of St. Luke's was formed. Why is there no Blue Ribbon Committee being formed to examine the implications of changes at Laguna Honda Hospital, particularly given the dearth, when not complete absence, of meetings with the community? (Kanaley must be rolling in his grave over LHH's retreat into a bunker mentality following his death.)
Laguna Honda's Changing Mission: Over the years, neighbors and others have been concerned about Laguna Honda's changing mission during the Newsom administration, which the City has adamantly refused to discuss openly. Beginning in 1999, when LHH's elderly residents with chronic and progressive medical conditions were pushed out to make room for six psychosocial wards, LHH's mission to provide long-term care for the frail elderly has been hijacked by the 2004 "flow project" to move San Francisco General Hospital's patients to LHH (which is still occurring today). This came to a head in 2005 when Mayor Newsom was pressured into ordering the Department of Public Health to re-instate LHH's previous admissions policy.
Déjà vu: The recent Davis Ja report recommends, among other issues the report raised, that a new organizational effectiveness consultant review LHH's mission — again! Laguna Honda is still an island of safety for complex geriatric patients who may also have mental health needs. The pattern of inadequate care for complex geriatric patients, which is a huge problem, will continue as long as consultants such as the Ja report's authors continue recommending replacing medical care and medical staff with behavioral care — without adequately evaluating either set of patients for both their medical care and behavioral care needs. Not surprisingly, the committee appointed to implement the Ja report recommendations are also meeting in secret — a Newsomian tradition — and will likely never hold meetings open to the public.
LHH isn't talking with the community about any of these changes. Until the community demands, and gets, an open-to-the-public Blue Ribbon Committee addressing the future of Laguna Honda, you can expect that LHH's roller-coaster déjà vu track record will continue to haunt it — and us — with boring repetitiveness.
Patrick Monette-Shaw
_______

Copyright (c) 2009 by Committee to Save LHH. All rights reserved. This work may not be reposted anywhere on the Web, or reprinted in any print media, without express written permission. E-mail the Committee to Save LHH.