Guest Column Return to "News Stories about LHH and SFGH" Index
West of Twin Peaks Observer
April 2008
Farewell to Laguna Honda's Clarendon Hall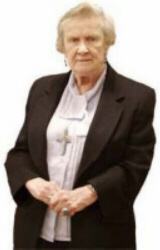 by Sister Miriam Walsh
After nearly 30 years providing spiritual care to elderly, disabled, and dying residents at Laguna Honda Hospital, it breaks my heart to say a fond farewell to the beautiful spirit of Clarendon Hall on Laguna Honda's campus. Like a little city, Laguna Honda's unique and warm atmosphere has served San Francisco's most vulnerable citizens for 140 years.
Laguna Honda has been a pearl in San Francisco's crown. Prematurely closing Clarendon Hall's 155 beds, followed by rapidly reducing Laguna Honda's census in the next year to only 780 people, will eliminate 33 percent of Laguna Honda's skilled nursing beds, leaving our crown jewel in tatters and reducing services to seniors and disabled people.
Cutting these services was not what voters wanted when we passed Proposition A in 1999. Although voters approved a bond measure to rebuild Laguna Honda for our seniors and disabled, the City is employing public relations staff to downplay this betrayal of the public's trust.
Proposition A was passed authorizing rebuilding Laguna Honda with a total project budget of $401 million. The City claimed it would rebuild 1,200 skilled nursing beds and 140 assisted living beds. But a recent report indicates the total replacement project for all 1,200 beds now stands at $704 million, $303 million over the initial budget. Now, only 780 beds will be built at a cost [of] $541 million. That's $140 million more than the initial $401 million budget, providing only two-thirds of the promised 1,200 beds. This isn't what voters were promised.
Laguna Honda now employs two public relations staff, but never did for 130 years: One, is its Director of Community Affairs; the other, its Director of Government and Community Relations. Combined, they're paid $200,000 annually. The former's job classification is an "Affirmative Action Specialist," and the latter is a "Special Assistant XVI." In 2001, the City's Civil Service Commission ruled City departments should stop hiring Special Assistants and hire managers, instead. Mayor Newsom may still be permitted to hire special assistants. But the Special Assistant's salary is funded from dwindling woe-begotten Department of Public Health funds. Laguna Honda has also hired Wide Angle Communications — the same communications consultants hired by the Mayor's Long-Term Care Coordinating Council — at unknown cost to support "the hospital's journey from institution to community."
While Newsom faces a reported $338 million budget deficit for the upcoming fiscal year, and while DPH has already submitted a reduction of $37 million in cuts to public health programs (with more cuts planned), creating huge waiting lists, why are we funding well over $200,000 for public relations, while eliminating the very community-based services that Laguna Honda residents will not be able to access when they are forced out of the facility, given the $37 million-and-growing cuts?
Rather than funding physical and occupational therapists who might be able to prevent premature deaths due to falls, or to help patients regain their previous level of functioning following a stroke, I never thought we'd fund, instead, public relations staff. Why are we placing public relations above patient care?
In November 2007, Laguna Honda modified its strategic plan, outlining a four-phase plan to create a new "brand" image, as if Laguna Honda is a product needing branding, like some new flavor of toothpaste. The four phases called for a communications audit; a survey of 400 San Francisco households and four focus groups to determine community "awareness and attitudes" about Laguna Honda; a one-year "soft branding" campaign starting in July 2008 using newspaper and transit advertising recounting Laguna Honda's 140-year history; and a "hard branding" campaign beginning July 2009 leading up to the opening of the rebuilt hospital.
But in March 2008, an updated strategic plan was released. Details of the four-phase campaign were removed, though are still likely in place. The updated plan indicates the Communications Department's goal is to establish an "organizational identity of resident-centered care," and also to "establish LHH as a community resource for medical issues related to skilled nursing and use of the campus for recreational and cultural activities."
Voters never intended to approve rebuilding Laguna Honda to deliver recreational and cultural opportunities. That's not why I dedicated my ministry to Laguna Honda. We passed Proposition A to provide long-term skilled nursing care to frail elderly and disabled San Franciscans, not to create recreational opportunities.
As we say farewell to Clarendon Hall, these recent developments break my heart. My hope is dedicated San Franciscans will continue striving to protect Laguna Honda's residents. They deserve no less.

Sister Miriam Walsh
Mission Helpers of the Sacred Heart
Laguna Honda Hospital Pastoral Care Director